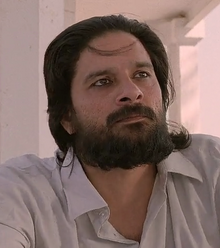 Shahid Khan was a Pathan who lived in Wasseypur, He looted the train by EIC filled with grain on the name on Sultana daku. and begin selling at local market. Just 2 months before delivery of sardar khan.  A dog always stays a dog. Shahid was like that. He knew that the whole town knew he was looting the train but being rotten was in his stubborn blood. He continued playing with fire. One day he got caught by sultana. All men were dead he fled
Jaideep Ahlawat as Shahid Khan, is a pathan and the father of Sardar Khan. He robs government trains under the guise of Qureshi dacoit sultana. When the Qureshi clan find out, he and his family are ordered into exile from Wasseypur. He becomes a henchmen for Ramadhir Singh but is killed when the latter eve-drops on the former and learns about his ambitions for power which sets off the revenge trail that lasts between the Khans and the Qureshis for around three generations.
Ad blocker interference detected!
Wikia is a free-to-use site that makes money from advertising. We have a modified experience for viewers using ad blockers

Wikia is not accessible if you've made further modifications. Remove the custom ad blocker rule(s) and the page will load as expected.